Holtedahl Peaks, Various Ascents
Antarctica, Queen Maud Land
Author: Damien Gildea. Climb Year: 2019. Publication Year: 2019.
---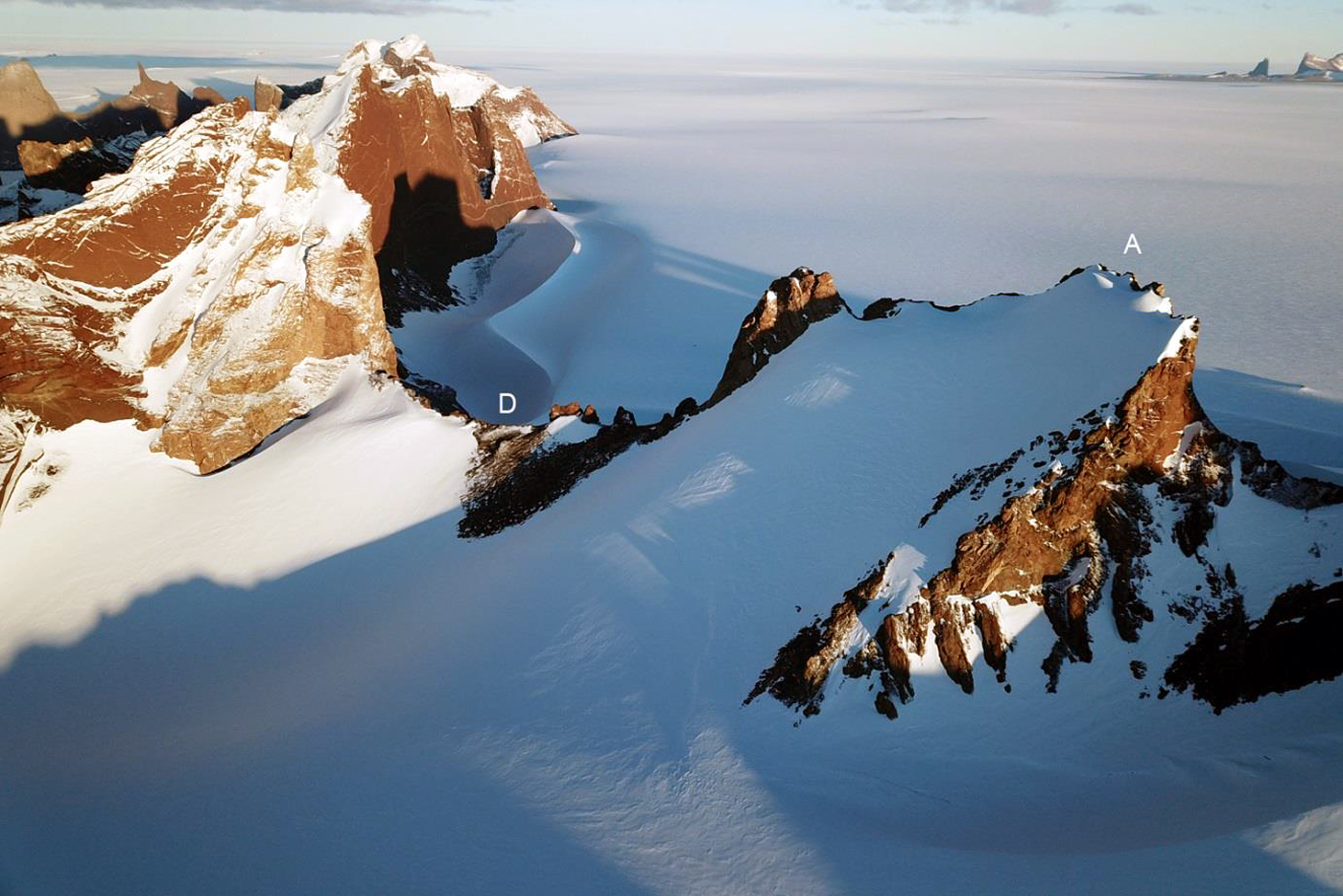 In January 2019, on his fifth expedition to Queen Maud Land, veteran polar guide Christoph Höbenreich from Austria led Michael Guggolz (Germany) and Kjetil Kristensen (Norway) to the Holtedahl Peaks. They circumnavigated the range on skis and climbed and named three peaks in the Vinten-Johansenegga massif, two of which were first ascents.
On January 5, the trio made the second ascent of Schneekrone ("snow crown," 2,140m, 71°49'S, 8°59'E). Approaching from the east, the team crossed the Fensterpass ("window pass," 71°48'42.31"S, 8°58'18.97"E), so named because of a rock in the shape of a window, and climbed the triple-crowned Schneekrone by its 50° west face. This peak was first climbed in 2000 by Cestmir Lukes, who called it Elvia Peak, but as this name was never officially submitted or recognized— and it contradicts the guidelines of the Scientific Committee on Antarctic Research (SCAR), which prohibit naming features after sponsors—this year's team renamed the peak Schneekrone, which they have submitted to the relevant authorities.
The next day they climbed Schneeglocke ("snow bell," 2,127m, 71°49.3'S, 8°59'E) via the glaciated east face and a 45° snow ridge to the summit. The following day, the 7th, the three started from base camp on the east side of a third peak, crossed a rocky ridge, and climbed mixed terrain on its northwest face, including a short rock section of UIAA grade III. They named this 2,249m peak Würfelturm ("cube tower," 71°49.9'S, 8°58'E).
– Damien Gildea, with information from Christoph Höbenreich, Austria
---
---
Media Gallery