Takphu North, Southwest Ridge from the East
Nepal, Nalakankar Himal
Author: Lindsay Griffin. Climb Year: 2016. Publication Year: 2018.
---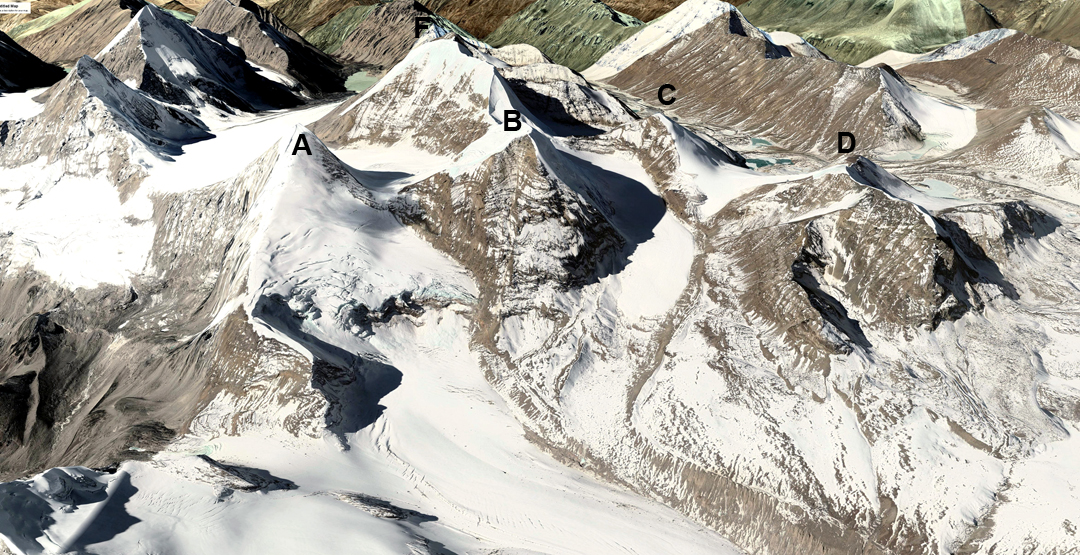 In the autumn of 2016, a German Alpine Club (DAV) expedition under the leadership of Herbert Bader made the first ascent of Takphu North (6,142m, 30°18'8.03"N, 81°24'59.96"E), a peak on the border with Tibet, near the northwest tip of Nepal. (Peak "D" in the map at right.) It was brought onto the permitted list in 2014 and must have been one of the more remote unclimbed 6,000m summits in the country. The expedition's round trip from Simikot involved 240km on foot and about 11,000m of ascent.
Leaving base camp east of the mountain at 1 a.m. on October 12, Bader, Karl Joseph Hengge, Tassilo Hock, Josef Knitz, Annabelle Rochelt, Alois Sinz, and Bhai Krishna Khadka (Nepal) reached the summit at 10:30 a.m. The team appears to have climbed the southeast-facing glacier (about 35°) between Takphu North and Takphu Himal (6,395m) to the frontier ridge, and then followed this broad snow ridge northeast to the flat summit. The total distance from camp was estimated at 9 km.
– Lindsday Griffin, from various sources including the Himalayan Database
---
---
Media Gallery