Nevado Tunshu South (5,560m), Southeast Face, Chinita
Peru, Cordillera Central
Author: Sergio Ramirez Carrascal. Climb Year: 2011. Publication Year: 2012.
---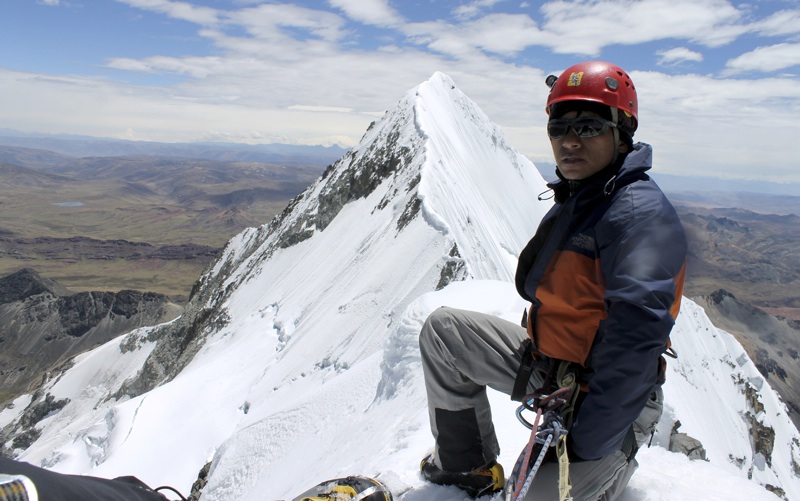 Aspirant mountain guide Rolando Morales and ULAGM guide Beto Pinto, who has put up 20 new routes in the Cordillera Central, climbed the southeast face of Tunshu South. Morales and Pinto entered the Reserva Paisajística Nor Yauyos, southeast of Lima, and established base camp close to Lake Azulcocha (4,400m) on October 16. Next day they cached gear near the foot of the face and on the 18th, leaving early, crossed the crevassed glacier and took a direct line up the middle of the face, beginning with a 90°section through iced rock. Subsequent pitches over rock, hard ice, and steep, time-consuming soft snow led to the top, which they reached mid-morning. They rappelled the south ridge and traversed back under the face to regain their approach route. They named the line Chinita (450m, MD, 60-90°). Pinto remarks that the Cordillera Central has excellent scope for new routes, but it is not in a national park and suffers from intensive mining.
Sergio Ramirez Carrascal, Peru
Editor's note: the main (north) summit of Tunshu (often quoted as 5,680m or 5,650m, but 5,730m on Peru IGM) was first climbed in 1958 by the northeast ridge. It was climbed again in 1967 by Germans Jochen Edrich, Peter Mirwald, and Hans Huber, who also traversed to a subsidiary summit of "5,565m," which may have been the south summit.
---
---
Media Gallery